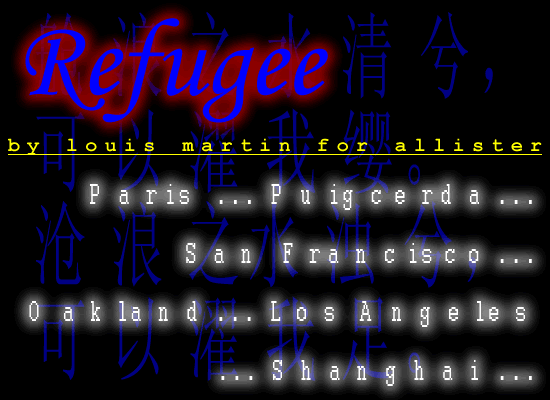 Shanghai—28 March 2010:
Refugee

After three months on the streets of Paris, I became a refugee on the run. I went here, I went there; calling no place home. I was alive, however, and ever busy devising the next step. Strange! I must have thought there was a future.
I went to Spain again to visit my daughter for a few weeks, then I went back to Paris for a day to move some of my stuff to a cheaper locker on rue Cardinet. Lockers in Paris are not cheap. The cheaper one now costs 64 euros per month, down from 90. But there wasn't a good alternative; it was too expensive to move my stuff to another city. The airlines are charging an arm and a leg for everything. Then I flew to San Francisco.
Or actually I flew to Dublin, then to Chicago, then to San Francisco. These days on economy class it is nearly impossible to get a direct flight. Still, I thought when I booked my flight, one could chose one's airline. I wanted very much to avoid United Airlines, which was once a great airline, I believe, but has ceased to be in recent times. They have cut everything that was once considered good service and developed an attitude to match.
I decided to try an airline that I had not flown before: Ireland's Aer Lingus. It was not a bad choice—the planes to Dublin and Chicago were clean and the crews at least somewhat attentive. But in Chicago came the catch: Aer Lingus had subcontracted the flight to San Francisco to United. And while there was food on the previous two flights, on the United flight there was none. As explained to me in a hushed voice by an African-American stewardess, "United decided that people don't eat after 8 PM." Soul doll, she offered me an apple from her purse. Of course there was the usual security, making you feel like you were going into a Nazi death camp. Security was run by a third-generation of Nazi death-camp guards, wasn't it? Well, maybe not. These people are too incompetent. Nevertheless, we removed belts and shoes, took off jackets, and put our laptops and everything else—coins, keys, cell phones, cameras—into trays that went through "the machine." This was before the "Christmas Day Bomber." Soon we will be going through the machine ourselves to have two guys in a back room stare at our naked bodies and snicker.
"Look at those tits, Clyde. Can you handle my terminal for five while I run out to see what she's wearing?"
"Sure, Howie. And get her friend's number for me, okay? I like that babe's tight ass ..."
But we got to San Francisco nevertheless. The baggage even showed up this time. But it was after midnight and the San Francisco shuttles were not in service. I waited for an hour and caught a bus into what used to be called "The City". That, I think, was in the days of Herb Caen when the shuttles ran after midnight because people came to San Francisco at all hours to have fun and it was an exciting place to be. Now of course entertainment has been downsized and downgraded, so that people still have some fun but not in excess. The new visitor to San Francisco, just like the new San Franciscan, is wondering how he or she is going to get by.
After a somewhat strange bus ride through the industrial area that abuts Bay View Hunters Point and over the top of Potrero Hill, then down Mission and over to Market, I staggered out at Montgomery Street and headed over to North Beach. I had booked no cheap hotel for the night and, as in Paris, was planning to stay up. As I could think of no other place that would be open—without entertainment San Francisco goes to bed early these days—I headed on foot over to Happy Donut on the corner of Kearny and Columbus.
It was December, not a warm month in San Francisco, but an Alaskan cold front had descended on the city making it frightfully cold. Hands numb, and feet too from cold concrete pavement, I dragged my cart with duffle bag up Kearny to the light and warmth of Happy Donut and bought coffee. What I really needed, after twenty hours of discombobulating travel, was a drink. But of course the bars were all closed in "the city that knows how" and airport security had long ago confiscated my bottle of wine. Hot coffee would have to do till morning, which seemed like a reversal of the natural order of things: Libations to Dionysus in the evening, mind-clearing hot coffee in the morning. But that is the way the world is in the post-Bush era. Up is down, down is up, forwards is backwards, backwards is forwards ...
There were only a few customers: Two guys talking by the window near the door and a large guy in a knit hat at a table by himself. I sat down at a table near the guy in the knit hat. He reminded me of a fairy-tale character. The Friendly Giant? I drank my coffee and took notes for awhile—I was somewhat amazed at being in San Francisco—then looked up.
"Where you from?" asked the large guy.
"Good question," I said. "Yesterday I was in Paris. Today I have been in Dublin and Chicago."
His name was Allister. He looked a little on the rough side, with an old scar over one eye, but was indeed friendly. And though large, he was not an actual giant. Giants live in caves, right? Well, most of them do. He said he was mostly living on the street now in San Francisco.
"Sometimes I have a place to stay but right now it's the corner of Montgomery and Pine."
"A classy spot," I said.
"A bit cold at the moment," he said smiling.
"I hear you."
He had also lived on the street in London, he said. That is where he was from. But it hadn't always been that way. He mentioned a girl friend.
"She always told me, 'Don't give everything away or you won't have anything left to give.'"
"Sounds like sound advice," I said.
"I used to give everything away. It bugged her."
"You could have a worse character flaw than that," I said.
"I know. Anyway, she was a nice lady."
"Can I buy you another cup?" I asked.
"Sure."
I don't know why he was living on the street. Maybe just a temporary lack of money; maybe a spiritual exercise of sorts. He was intelligent and thoughtful. I sensed that whatever he was doing, it was by choice. If he had had a rough life in the past, it looked like that was over. When I mentioned that what I really needed was a shot of booze, not coffee, he smiled but said he didn't drink anymore. He didn't say why.
I sensed that neither of us was very welcome at Happy Donut. It is a clean, well run shop that is frequented by night workers in North Beach. I excused myself and went over to Washington Square for awhile. I had it to myself—it was too cold for the usual hanger-outers—along with the JC Decaux automated toilet. Surprise! The toilet was actually functional. When I pushed the button and the door opened, I could have been in Paris. I went in and relieved myself. Hugely. The paperwork was extensive, as I think my digestive track was highly confused by my travel diet.
I sat on a bench in the park for awhile. There was a light fog and it was damp and cold. I found it very unpleasant, even after spending three months on the street in Paris. I did not expect bitter cold in the Sweet City by the Bay. A little romantic fog, martini weather, "Fly Me To The Moon" played by Don Asher over at Moose's, now Eddie and somebody's. I had returned to a dream that had taken flight. A year earlier I had sat in Washington Square part of the night to get the feel. I was having trouble with the bank over cashing a check. They were delaying payment as long as possible. Sitting on the bench then was a kind of test. Now it was the real thing.
In the morning I found a liquor store in Chinatown and bought a half pint of vodka.
"Ni you bailandi ma?" I asked.
They only had Hennesy and Remy-Martin, both beyond my budget.
I bought a cheap bottle of vodka, which I later discovered, reading the label, was made by Sazerac Company in New Orleans. I know the company because once upon a time I used to buy their famous brand of bitters, Peychaud, for making cocktails. That was when I lived in a tower on a hill in a fairy-tale city by the bay.
"Where you learn speak Chinese?" the clerk asked.
"Shanghai," I said. "Wo zhu le Shanghai laode cheng." (I used to live in the old city in Shanghai.)
I begin to feel dizzy thinking about all the places I've lived.

Later in the day I took BART over to Oakland, where my son lives. He has a spare room and for the next week I worked on dans le rue à paris, épisode 2. I have never spent much time in Oakland and on first impression I was inclined to agree with what Gertrude Stein said but never really meant:
"There is no there there."
She really meant to say that her house in Oakland had burned down, so for her, personally, there was no there there. However, the statement seemed so true to so many people—especially San Franciscans—that it stuck. I was inclined, at least on first impression, to agree with the assessment.
After a week of dans le rue à paris I was ready to get back to San Francisco or "The City." Let's call it that for awhile and see how it feels, okay? On Friday I took BART back over to Montgomery Street and got some cash at the bank—not a lot—and some coffee beans at Peet's, visited Trader Joe's out at Fishermen's Wharf, and ran into Allister hanging out on the corner of Montgomery and Pine. He was in good Christmas spirits despite the weather, but he told me that he had been asked not to hang out anymore at Happy Donut. "You're kidding," I said. Looking a little sad, he said he wasn't. He said he also bought a hotdog down the street and, when he sat down at the window counter to eat it, was told the counter was closed. "What a bunch of bastards," I said. I hoped my strong language would make him feel better. In fact, I really was a bit surprised. He is not unclean or unkempt despite wearing a knit hat and looking like a street person, although of the "upper class" kind. Yes, these days in San Francisco there are various classes of street people: lower class, middle class, and lower upper class and upper upper class. Upper upper class are the former bankers and lawyers who are out on the street. Allister is probably lower upper class but solidly so.
I talked about living on rue Clichy in Paris, so that he knew he was speaking with a fellow street person, despite my improved appearance due to a week of sleeping inside and shaving and showering everyday. "Piss on 'em," I said before saying goodbye and walking on down to Bush Street. At Bush took a right up to Claude Lane and Cafe Claude. I was curious to see if Horacio from Uruguay was still working bar there. He was. In fact, he had been promoted to bar manager. And his older brother was also working there in back of the bar.
"I am his boss," said Horacio grinning slyly.
Actually, the two of them seemed to get along quite well together, but I noticed it was the older brother doing all the work. Such is the way of management. If only the mother had been there. I can hear her scream:
"Help your brother, you stupid lazy kid. Times are malo. You want Alberto get fired?"
But enough stereo-typing. She would probably speak perfect English and French too.
I had a vodka martini, which I really couldn't afford; but I played my part so well that no one knew. On an empty stomach, however, I got my money's worth. I nearly fell over walking out the door and down that little flight of steps to the alley. It was drizzling outside and cold, bringing me quickly back to my senses. Down the street I got a new battery for my watch—I no longer had to guess the time—and bought a ten-pack of tissues over at Wallgreen's, which I split with Allister on the corner. I felt like a new man, or at least a renewed man. It was nice to see the hands on my watch moving again after being frozen at 3:15 for the last three months. I knew in Paris that a watch battery was not bon marché (cheap), so had waited.
On Sunday I went to the Fairmont Hotel on the top of Nob Hill—it's my old neighborhood from more prosperous days—and caught Eric Shifrin playing happy songs to a Christmas Crowd. I asked him to play something sad, which he did—"Don't Explain," I think—but it sounded happy to me. I guess I had been on a downer the last few months.
"No," I told Eric, "play something sad."
"That's as sad as it gets, pal. Sorry."
"Can't you flat all the tones and play the whole thing down two octaves?"
He only gave me a sad look.
Then I dropped down the hill to Bush Street, hoping to visit with Christine at Yong San Lounge. She's one of the bartenders there, and I was in luck. She was working. But it had been almost a year since I had been in. I used to buy her drinks and talk with her.
She is Korean woman, quiet and sensitive—maybe over-sensitive—and a little peculiar but I like her. She looked a little cross as I sat down at the end of the bar near the door, as though she were going to ask, "Where have you been?"
I beat her to it: I asked her about her dreams.
"What dreams?" she asked, scrunching up her face. She looked edgy.
"The baby dreams," I said.
"I don't want to talk about my dreams," she said and walked off but soon turned around and came back.
She was now clearly agitated.
A year or so ago she had been having some disturbing dreams. She was dreaming that someone was dropping off babies in the middle of the night at her apartment door. She had found this so alarming that she had even gone to the library to get a book on dream interpretation.
I don't think she is much of a reader, especially of English-language books. She asked me to have a look at the book and tell her what her dream meant. I only glanced at the book, then set it down on the bar, avoiding any drink puddles, of course. I knew from long experience the perils of bar puddles to both notebooks and books. I asked the obvious:
"Do you have a boyfriend?"
I thought that perhaps she was worried about getting pregnant. She said there was NO boyfriend, giving me what I thought was a reproachful look.
I felt like Freud rebuffed.
Now I dropped my question about dreams.
"Do you take vitamins?" I asked.
I thought she looked anemic.
"No," she said.
"I will bring you some," I said.
Now she looked pleased, as though she were expecting flowers or a box of candies....


I was catching up, partly resuming my old life in San Francisco. But I was also looking for something new, though I did not know what.
About the same time I had begun to translate some Chinese poetry, shi or shiyi, into English.
舱浪之水清兮,
可以濯我缨。
沧浪之水浊兮,
可以濯我足。
It's by an unknown poet of the Chu Dynasty. Roughly translated it says:
When the Cang Lang stream is clean,
I can wash the string on my hat.
When the Cang Lang stream is turbid,
I can wash my feet.
It is sort of about adapting to external conditions or the times. I guess that is what I was doing. I also found myself with an urge to understand external things better. I was tired of political turbulence, shenanigan ...
For the next few days I again worked on dans le rue a paris. In addition to my experience hanging out on the streets of Paris for three months, it contained bits and scraps of Paris history. An interest in history was new to me. When I went to school I had no interest in history at all. Time was either present of future.
By Friday I was ready to renew my relationship with San Francisco and get away from the nowhere of Oakland. I took BART to The City. In an instant I was somewhere. I dropped off some vitamins for Christine at Yong San Lounge. She was ever so pleased until I rushed off without buying her a drink. "Later, babe!" She smiled a little. Then I went down to Golden Gate Perk at the Corner of Bush Street and Claude Lane. They were closing due to a landlord who was taking over the space himself. Their investment of the last three years was going straight down the drain, and Andrew and Amy, the owners, were not very happy about it. I was not very happy about it either. For several years now, when I was in San Francisco, Golden Gate Perk had been my downtown Internet connection where I could also get coffee and wine at a reasonable price. I would miss the conversations with Amy from Hong Kong. Zai jian! Amy.
Later I went over to Les Joulins Jazz Bistro on Ellis Street near Market. Good news: It was about the same. Reuben from Mexico was still running the place superbly with his brothers—the owner now practically unseen—and Charles and Valencia were still the jazz centerpiece on Friday nights along with a promising new pianist whose name, unfortunately, I failed to write down. For now I'm calling him Bill Evans' little brother—or Bilbro—as he had an Evansesque sound, which is a good sound if you are just starting out.
One sad note, however. While on break, just after singing Tokyo Blues, Valencia informed me that BJ Papa had died. Sad and too bad. BJ was a great light on the jazz scene in San Francisco. Then I remembered. I had seen BJ on the street over in North Beach about a year ago, and we went over to Enrico's for a drink. BJ said he was going in for some medical tests the next day and he looked serious about it. He was watching the time, because he had to quit eating or drinking anything by a certain hour.
He told me about the early days when he had an apartment on Bush Street and played tenor saxophone, and how he switched to piano to "comp" for other players because there was often no piano player around. That in fact was what he was really good at—backing other players and also bringing other players together. He was like Duke Ellington that way. The best jam sessions I ever heard were those organized by BJ down at Cafe Prague. Unfortunately Cafe Prague is gone now too. A year ago it was closed but the Cafe Prague sign was still there. This year it is a lawyer's office. Farewell BJ, farewell Cafe Prague. For now the lawyers are winning, but they can't carry a tune or make a decent espresso, and when they are gone who's going to remember them?
I did do one other thing in San Francisco to revive old times. On Saturday I stopped by Club 21 on Turk and Taylor. That is Frank's place and located at the proverbial epicenter of the Tenderloin. Frank, the owner, was in back of the bar, and my old Nob Hill neighbor, John, who prefers the grit of the 'loin to the airs and the snares of the hill, was there along with the usual diversity of the Tenderloin. Under less skillful hands than Frank's, Club 21 would be full of bullet holes and there would be fights every five minutes. But Frank is respected by one and all and there are no bullet holes, and even the roughest characters go out to the street to light up so that Frank doesn't get cited.
After a Jack Daniels and a little catch-up—I promised to return sooner next time—I walked over to Union Square. All the Christmas stuff was up and it looked gorgeous. The message may have been, "shop till you drop," but you can always ignore the message and just look at all the pretty lights. I think a lot of people were doing just that.
I can hear the conversations:
| | |
| --- | --- |
| Middle-Aged Man: | "Well I just can't find anything cousin Harold will like. Maybe I won't get him anything this year." |
| Middle-Aged Woman: | "Yeah, he's so picky. Better nothing than something he won't want." |
| Middle-Aged Man: | "Wanna get coffee?" |
| Middle-Aged Woman: | "Can we really afford that, honey?" |
The next day was Sunday, a day I traditionally try to take easy in hope that vitality, both mental and physical, will return home. Nevertheless, I decided to take a walk up Telegraph Avenue to see if I could discover some there there. So far there had been in San Francisco and in a bedroom of an old Victorian house in Oakland while dreaming and writing about Paris. It's often that way with me, out of synch with the now.
From 40th Avenue on Telegraph Avenue I headed toward the hills in the direction of the big university. Little bits of here appeared. Aunt Mary's, and other cafes with pretty good lines of Sunday customers at some, indicating they were good and worth waiting for; some wine shops; some book stores of course; and at least one hippy shop selling candles and incense and jewelry and tea added an additional sense of here. There were also some nice old houses on the side streets off Telegraph, reminiscent of another era, but now divided into apartments and encircled by security fences. Still, they were nice to look at and added some hereness or thereness to Oakland.
"But, jeeze, man, it's so flat," you might say. Yes, it is; nothing can be done about that. Flatland and Oakland, salt and the city, nitty and gritty but not awfully witty. "Tender Buttons"—you know that book by Gertrude Stein? Total nonsense and meant to be. How did she do it? Most nonsense sounds like it makes sense. Consider, my dear, Mr. Edward Lear. But "Tender Buttons"? Doesn't sound like it makes sense and doesn't. That's hard to do because the mind tends to fall into sensible-sounding patterns even when conceiving nonsense. Try it. Harder than you think. So hats off to Gertrude Stein for something, though I'm not sure what. And the good thing is this: If you haven't read the book, you haven't missed anything. The choice is yours and isn't. Always and never. And if it doesn't work out, let the book read you. Backwards of course....

A few days later I was on a plane headed to LA. And despite my best effort to avoid United, I was stuck with them again. They were like some disease for which no pharmaceutical company has invented a pill. Once United, forever United, I said to myself, struggling to shake the Stein woman from my mind.
And of course there were problems. United guarantees that. First there was a mechanical problem. I had noticed that the plane was getting warmer and warmer as we taxied out to the runway, waited for half an hour and returned. It was now two days before Christmas and passengers were on a tight schedule, with the exception of me of course. I have learned to expect nothing when flying, especially when flying the dubious skies of United. I would get to LA when I got to LA. But other passengers thought differently, They had connecting flights to Hawaii, to Mexico ... One passenger even thought she was getting married later in the day. No, she was getting "United" and right now.
To make things short, back at the terminal a mechanic got one half of the climate-control system to work—for safety reasons it's a dual system— and we taxied back to the runway. They swore it was safe, but just in case, they were going to fly at a lower altitude so that only our noses and hands would turn blue if the other half of the system failed. Of course there was not even a little bag of peanuts because, I suppose, worried and angry passengers don't want snacks.
I got to LA. The girl who was getting married most likely got married. The sun and the moon and the stars are still there in their places. Maybe the earth even abideth forever, though the climate scientists are casting doubts about the long-term viability of planet Earth. Christmas this year did come and go but I kept wondering more and more about "something new." New Years itself came and went but it in itself did not reveal anything new.
In the comfort of a spare bedroom at my brother's house in LA, up on a hill on Palace Verdes and not far from the beach, I began to do some reading.
I began with some Internet pages, mostly from Wikipedia, on the history of China and Shanghai. The history of China is long, and at first glance—and maybe last—baffling. It consists of many dynasties and two "periods"—the Spring and Autumn period and Warring States period—and of course the modern era with the Republic of China followed by the Peoples Republic of China. Throughout history warlords fill the little gaps. That's the nutshell view, which I more or less knew already.
Unraveling the modern period a little, I learned how the Kuo Ming Tong (KMT), let by Dr. Sun Yat-sen, wrested control (1911) from the last dynasty, the Qing Dynasty, forming the Republic of China (ROC); and how in 1949 the Communist Party of China (CPC) took control from the ROC, forming the Peoples Republic of China (PRC) with the ROC fleeing to Taiwan. The PRC would have gone after the ROC but it was not such an easy thing to do back then. Now the PRC is strong and could easily go after the ROC, but they don't want a bad international reputation. They are trying to coax Taiwan back with smiles and friendly gestues. It is clear, however, that they intend to get Taiwan back—one way or the other. What is perhaps interesting is that the CPC did far less than the ROC to fight the Japanese invasion in World War II; they did, however, quit fighting the ROC for the duration of the war. Then, when the war was over and with far fewer losses, the CPC pounced on the ROC, forcing them to take flight. Teary-eyed, some have maintained for years that the ROC is the real government of China.
Written history begins with the Shang Dynasty (1700 BC to 1046 BC). The Tang Dynasty (618 to 907 AD) was a period of prosperity with innovations in art and technology. China's two most famous poets, Li Bai and Du Fu, wrote during this period. But it ended rather tragically too, as Du Fu captured in some of his poems:
国破山河在,
城春草木深。
感时花溅泪,
恨别鸟惊心。。。。
Roughly it says this:
The country is broken but mountains and rivers remain,
In Spring the city is thick in grass and trees.
I feel the times and my tears splash upon the flowers,
I hate to leave and the birds startle my heart.
He is lamenting a period of time when he witnessed much destruction and killing due to war. In one instance, Guangzhou was captured and most of its 200,000 residents were killed, including foreign merchants. War has never been a pretty thing, then or now.
Another poet, Cen Shen, less famous but of the same period, describes the personal feeling perhaps even better in just two lines of the poem, Quipu Song:
故园东望路漫漫,
双袖龙钟泪不干。。。。
A rough but close translation is the following:
I look at the road going slowly east toward the homeland,
Both of my old sleeves are wet with tears....
It wasn't necessary to wait for the 20th century to learn about the tragedy of war. It was well known back then.
I also did some reading on Shanghai. I was headed back there soon and wanted to know more. It was upgraded from a village to a town in 1074 by the Sun Dynasty and spans a number of dynasties, the Ming (1368 to 1644) and the Qing (1644 to 1911) being the longest. In 1554 a fortified wall was build to protect Shanghai from Japanese pirates. But it did not become much until the Treaty of Nanking in 1842 when it became an international trading post between east and west, developed by the west, notably Great Briton, the United States, and France. It was during this period, up until 1937 when the Japanese invaded, that Shanghai got is saucy reputation. Books on Shanghai girls are still best sellers at the Shanghai Foreign Language Book Store. But I won't bore you anymore with "important" dates and events. You can read it for yourself if you want and even take a quiz, which many books published in China contain.
That's the big view, but it doesn't tell you much, does it? My brother and I took a walk to a park nearby his house and stared out over the LA basin. It was an exceptionally clear day and you could see from Saddle Peak in Malibu where the Nike missile base used to be to Mount Baldi covered in snow. You could see downtown LA, UCLA with Interstate 405 to the left running up over the mountains and into San Fernando Valley, and you could see Santa Monica where I was born. But so what? What did it mean, what did it matter? Today it was simply a surprise that you could see it so clearly. The smog, for once, was gone. So were we really looking at LA, or were we looking at the absence of smog? Environment was clearly an issue these days, and one that the "leaders" of the world had recently chosen to ignore.
Confucius talked about the "rectification of names" and the importance of the right use of words. So should some other word be used than "leaders"? Probably. Lacking another word, however, the used quotes helps.
What is another issue these days? "Terrorism" is certainly one of them. Just recently a young man from Nigeria, the "Christmas Day Bomber," tried to down an airplane over Detroit. And it wasn't because of the lack of service, which might have made it understandable. Read about him and you read a pathetic tale of confusion. But is "terrorism" the right word to describe this issue? It works but is a superficial label that does not shed light on the deeper nature of the problem. The real problem is as profound as the isms once posed by Nazism and Hitler and Fascism and Mussolini. The problem is that of a group of people justifying by their religious "beliefs" the murder of anyone and everyone who is not "one of them." It goes beyond genocide; it is an attempt to murder a whole culture or civilization. It is a new "Dark Ages" of thinking—or should I write "thinking"?—every bit as sick as that of the thinking of Hitler and Mussolini. Their thinking has deep, ugly roots and should be countered by more than a "war on terrorists" by the United States with a little help from NATO. Obama may be right sending more troops to Afghanistan, but there should be a world-wide effort to understand their deadly ism and weed it out before the "believers" blow up whole cities. But there is not, and some, such as Abudinejad of Iran, would even appear supportive of their efforts. Once again, the "collective psyche" of mankind is sick and a new Carl Yung needs to step forward to label it for what it is, not quite Nazism, not quite Fascism, but some other viral "ism" just as deadly if they obtain the means. In the mean time, filmmakers are murdered in the name of Allah, contracts are issued to kill writers, attempts are made to murder cartoonists, women who have been raped are stoned to protect their "honor," non-Islamic churches are firebombed for uttering the sacred name, and the decapitation of the innocent continues. The aspirations of the perpetrators make Hitler's appear modest.
But few of our "leaders" see the danger here; or they see it their own way. They just see the profits to be made in arm-sales contracts to "fight the bastards," which these people are not; they are insane and ignorant but deadly and daring. So have we gotten anywhere?
We have gotten nowhere, but don't call it Oakland, either, dearie.


There is a lot in names. But today we are standing on a hill either looking at the LA basin with a certain amount of nostalgia from places we know like Saddle Peak—there is a restaurant up there we used to go to—or UCLA, which we both attended; or, as I said, we may just be staring into the void, marveling at the absence of smog. For a moment I feel like we are two old philosophers on a hill, Lao Bo and Lao Lu. If we were characters in an ancient landscape painting, there should be a small fire over which we were boiling water for tea. As it is, however, we look more like two ancient mariners, ship-wrecked years ago in a desert land of hot sand and burning rubber who have learned all its land-locked passage ways—Sunset and Wilshire boulevards, Topanga Canyon Road, Mulholland ... We know their twists, their curvers, their staightaways but long for a cool breeze and to put out to sea again. Then we go home and make "Pajarro" peaberry coffee from Trader Joe's.
Sipping the fine, earthy New Guinea coffee—the trader has sailed the seas for us—I pick up a book that my brother got from the library, "Working" by Studs Terkel. It's a compassionate book about jobs in the United States. Terkel interviews workers. It becomes clear that to get through the day doing many of their jobs requires a courageous spirit. Like the woman who pulls shoes from the shelves of a warehouse all day. By the end of the day her own feet ache. But she'd rather do that than work in the office where minds tend to ache by the end of the day. She makes an extra effort to be friendly. She creates her own emotional environment. She is a single mother and makes the best of it. She has a dream of working with children in the future, but her dream lacks a plan. There is also the accountant who became an accountant because of a lack of imagination—he couldn't think of anything else to become. He now laments that his job gives him little to talk about in the evening.
I am also reading Will Durant's book, "Our Oriental Heritage" from the set, "The Story of Civilization." He talks about the rather late shift in China from an arts- and crafts-based culture to an industrialized one. He talks about the lack of pride in factory work and the deadening of the spirit through repetition. He wrote this book in 1935. Factories back then had dirt and were grimy but at least had a human look. These days, if you watch the business news in China, you see gigantic, laboratory-clean rooms with workers dressed in white suites and wearing masks. Most workers seem to be young woman. Occasionally an attractive dark lock of hair protrudes from a hair net as they repeat the same motion in synch with a machine. Is this supposed to show prosperity and that workers are better off than before? Is such a worker better off than one picking tea leaves out in the country or operating a loom? Who is likely to be heard singing a song?
Some programming work these days is not much better, I think. Programmers in the United States began to be called "developers" before extensive offshoring of this trade began. There was considerable pride in the work and the title. There was the notion that the work was creative in nature, reflected by the title. Then it was discovered that much of the work could be done by foreign programmers, even though not quite as well; the product was still sellable. Developers became programmers again; creativity and respect waned.
"A programmer is a programmer is a programmer," chanted management, rectifying a name by removing respect and pride. What should have lead to a revolution in the United States, and California in particular, only led to resignation and an occasional "Arg!" The sole expression of dissatisfaction came in the form of a comic strip, "Dilbert." Though hilariously funny, it inadequately expresses the dissatisfaction of creative mind-workers with corporate management and politicians.
Another "issue of our times" is economic stability, or the lack of it. At the end of the Bush administration, so much money had been spent on war and so little had been done to regulate financial markets and institutions that consumes and businesses alike lost confidence and quit spending. Banks failed and the effects rippled around the world in Internet time, not months or years later as with the failure of the 1930s. It all proved the opposite of what Alan Greenspan had said, that the market would regulate itself. Bush had not only destabilized Iraq, leading to protracted civil war, but had destabilized the world economy. Nevertheless, he left office seemingly proud of his "accomplishments."
dan le rue à pairs was finally posted, and I was ready to go back to Shanghai. I booked my flight for the following Monday and had a little free time. I successfully avoided United this time; I booked a 5 AM flight with Air Canada. I do not like this hour, but I have noticed that there are many early-morning flights and few afternoon or evening ones, when I would really like to travel. I guess this is for the convenience of business travelers—so they can make their 8 AM meetings—and not poets and painters. But poets and painters have a little trick the airlines don't know about: staying up all night eating and drinking, then going to the airport. The effect is that of a late-night flight.
I bought a new, larger duffle bag at an LA mall, hoping to avoid the extra-bag charge—it didn't work—and settled down to some serious reading of "The Story of Civilization." I was also doing some more translation.
I am in my cozy, temporary bedroom at my brother's place. I'm reading Durant. He is comparing Lao Zi and Confucius. He talks about Lao Zi and France's Rousseau and the periodic return-to-nature movement seen throughout history. You see this same trend at the end of Voltaire's "Candide," where all retire to the "little garden" in the country far from Constantinople. I did it myself one time in Mendocino, California, living "off the grid" with gas lanterns and walking each day to a spring to fill up my water jugs. Life was simpler, more basic. So why did I go back to the city? Another story, another time.
Confucius, by comparison, is the city boy. His interest is in social order. He wants to write the rules, make men think about proper interaction in a harmonious social order. Lao Zi says nonsense. Just get away from it all and natural orders will emerge. Stare into the void, quit thinking so much, and the answer will present itself free of charge.
About past and present, Durant says this: "The present is the past rolled up for action, and the past is the present unrolled for understanding." Action is the future, I guess, or what leads to it. I begin to wonder about past, present, and future. What is the difference between the past and the present? The past you can picture almost like a movie which you can stop to examine the individual frames. The present you can only experience and it always seems to be slipping away. You can use the present to picture the past but you can't exactly frame the present or make it stand still. Or am I wrong? Is that what meditation is all about? Learning to experience the present in a new way so, that time stops and you are just there, one big frame? Oh, do not ask if, during perfect meditation, there is a there there, though that may be a worthy question. Does here and there come together and time stand on its head? Does it only happen in the city, or The City? Is it a Satori in Paris? A martini in Manhattan? Does country contain city, or is it the other way around? Is there a bigger container—the Big Container—in which both exist? And what contains the container? Another? Is the world of object-oriented programming having a meltdown? Is Picasso now ashamed of all those cubes? Oh, brother, Big Brother, Brother of All Brothers, can you spare some time? I've a wordy job to do.
But these are different times. You would never get one of our modern educational institutions to fund the asking of such questions. They are profit centers, like everything else, and if there's not something in it for the administration, don't expect any handouts. All inquiries must be strictly scientific, measurable, and academic, and enhance somebody's bottom line. Other questions are for wash-room walls and idlers. "Hurry up, please ..."
But back for a moment to idle questions: What is the difference between past, present, and future? The past has happened; we know that. The present is but a fleeting point in time; as soon as it is gone it is sucked into the past. But the future, or that which is to be? What determines it? The past, certainly, but not entirely. The future, it would seem, is not entirely predictable. Given a now, it can go different ways, depending on character or inspiration. That is, human character or inspiration. A person has a choice. A truly alive person does, anyway. One can think and feel, and failing to get the answer there, one can wait for inspiration—stare into the void until a spark suddenly ignites in the swirling ether and an answer jumps out, genie-like, before the mind's eye.
But who's going to trust such nonsense these days? Certainly not the fat-cat administrators at the universities, the "educators"—or should we play Confucius and rename them? Let's try something Frenchie. Les diséducateurs? Les dupers grand? So so. 马马 虎 虎. Anyway, the Dynes, the Birgeneaus, and others who maintain that you only attract "top talent" with big salaries when in fact it is the rats who show up in academic gowns, resumes in hand, as if in some modern fable.
Read, I tell myself, read. Find out what has been. Study history, but not as it is taught in the schools, as a series of "important" events and dates, but to learn how things got to be the way they are now. Go beyond that. Till the soil, plow through the layers of mind and thought, and add something new; discover freshness, "deep down things."
A tall order for a small mind, mine; a powerless Prufrock deaf to the songs of mermaids; an anxious Li Bai looking into the bright mirror (明 镜) for the source of Autumn Frost (秋 霜) and seeing only his own face. Nevertheless I would try.
Could I do this with language, or did it go beyond language or languages? I had bent language already, squeezed it where it did not want to be squeezed. It had yielded somewhat to my touch, then begged me to keep my hands to myself. How much could I expect from language, from a bunch of words? In the English language there is a grammar of life—the tenses—past, present, and future. Was there also a grammar of death when the now stopped or foze, the future lost potential, and life was rolled up into the past that only others might experience as the now? In the English language there are action words that lead to events and state-of-being words.
"I who have died am alive again today ..."
To the government, "have died" means that I'm no longer a tax payer. But what does it mean to me? Does it mean that my body has died but "I"—some kind of consciousness of existence—still exist somewhere and in some form? Have I simply "passed," as is said but usually as a euphemism? Is it possible to imagine one's owns death, one's total extinction? And if it is not imaginable, does that mean, as some claim, that it's not possible? Was BJ Papa really dead and lost and gone forever, as in "Oh, my darling, Clementine," or was he just hard to find? And what about the miners daughter? Was she there with him? But first I would have to get to Shanghai. I was probably becoming a bother in my brother's house. It was going on three weeks there.

On Sunday night my brother dropped me off at the Air Canada terminal at LAX. It's on the first part of the loop, the right side. My flight was not until 5 AM but like a lot of other people, due to security I had found it easiest to show up the night before and wait. There was not food , however, at the Air Canada terminal, so I wandered down to the Tom Bradley terminal where I was told food could be found. There was both food and construction at the Tom Bradley terminal.
Remember Tom Bradley, the first African-American mayor of LA? Nor do I, really. I remember Sam Yorty, who looked like a crook, much better. Confucius might have preferred Bradley, Lao Zi Yorty. Bradley was a man of principle, or at least some principle, while Yorty always had a spark in his eyes. And what about the current guy? Or is it a guy? LA seems to be a political dead end unlike San Francisco, which produces, at the least, politicians of notoriety.
The terminal is in the shape of a huge auditorium, with ticket counters down the long middle and along the sides. It is made to fit the space at the bottom of the long U that is LAX. Any place else it would be a bit strange.
The food concessions were at the rear of the terminal, upstairs—the mezzanine, if you will—which was also where the construction or remodeling was going on. Or I guess it was going on.
Food at this hour was limited to Mac Donald's with a Mexican staff, and almost all of the construction guys were there on break or lunch or on whatever category it came under on their contract. Out of the 16- or 20-member crew, only one or two worked; the rest occupied the tables on the big balcony in front of Mac Donald's. It was as if they were watching a performance—their two dull fellow workers doing their jobs—and waiting for instructions that would never come. They looked as if they had passed from boredom to some other yet-to-be-named state.
I did not want to eat Mac Donald's, but it was going to be a long night, and there were no other choices. Maybe Air Canada would have food, maybe they have taken the cue from United and would not. I ordered some fries and found a little space at a plastic counter that wrapped around the balcony.
Now I, too, watched the workers who were working. It was hard to figure out what they were doing. They were working in an area that was taped off with yellow ribbon like that which is used at a crime scene only there was no body. It was all very dull. I began to work on the translation of a poem by Li Bai:
床前明月光,
疑是地上霜。
举头望明月,
低头思故乡。
It translates almost literally:
Before my bed, bright moon light,
I suspect there is frost on the ground.
I raise my head and look up and see the bright moon;
I lower my head and think of home.
The poet is homesick. I don't know if he is on the run too. Maybe. The images are clear, simple. It is like a painting, each word or character evoking an image. Count the Chinese characters, then count the English words. You will see that it is also very compact.
I look up from the plastic counter. One of the workers at a table nearby is removing the red wrapping from a burger and wadding it up. Actually, he looks like he is strangling it. I want to shout MURDER but don't. He stuffs it into a large, wax-coated soda cup on the middle of the table already stuffed with other trash.
We live in a cheap world. Fortunately, there are deeper roots, though government and industry—and the ism of religious fundamentalism—would do their best to poison them.