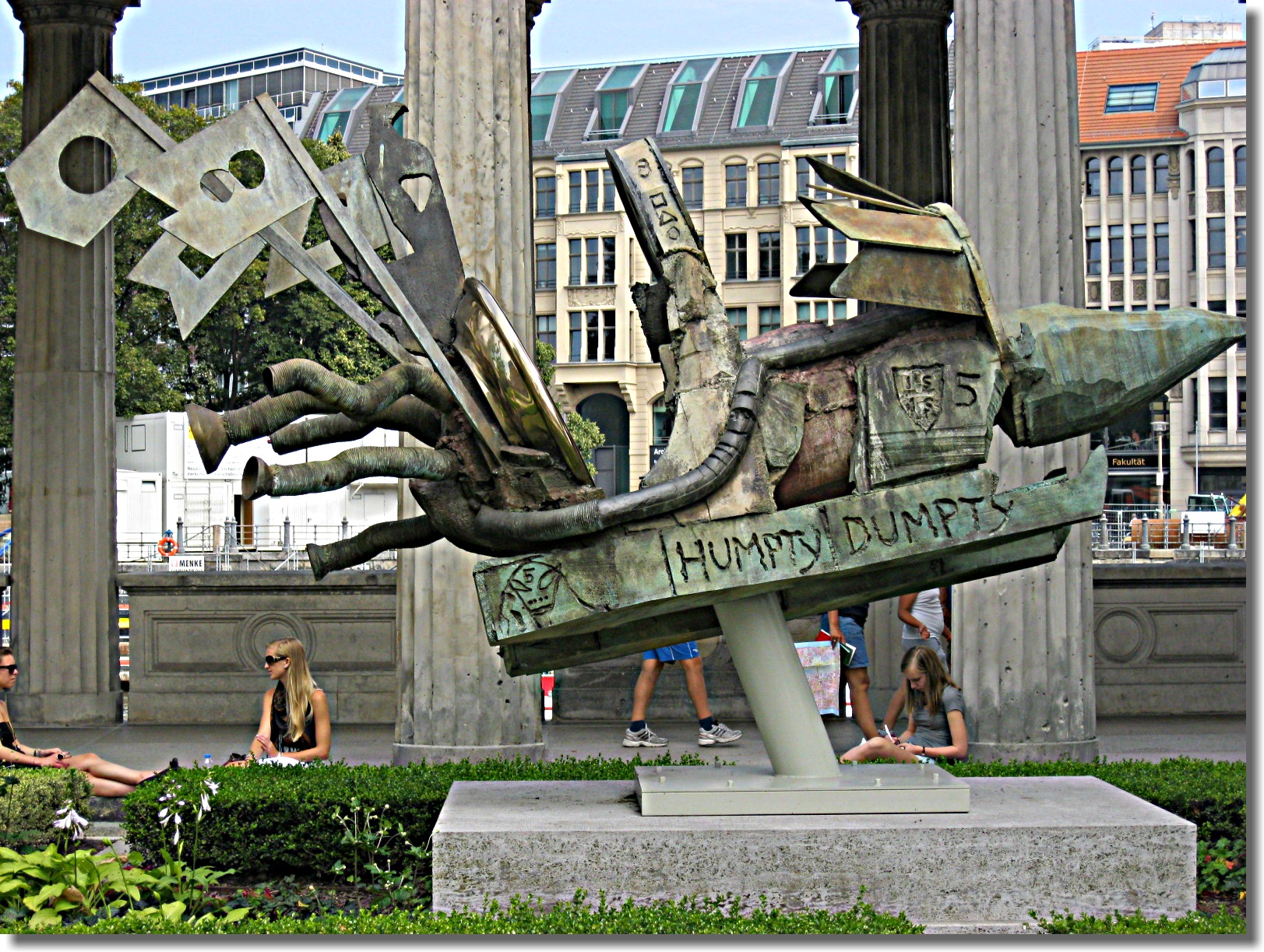 Berlin—August, September 2011:
Having Doubts in Berlin
I feel like
a dying animal.
I have come
to Berlin
for what reason?
To be bombed
into submission?
Like Hitler
I won't submit;
unlike Hitler
I never started
anything.
So if
you are
a kind Nazi,
be quick about it:
Gas me fast.



Doing nothing in Berlin, at least for now, I'm just recuperating from all the extra work it takes being poor: from all the calculations it takes to determine what I can eat, where I can go, and how long I can stay.

Once I had a lot of dough. Where did it go? Government officials know.




Coming to Berlin from Paris, my first impression was of depression. Although it had rained in Paris most of my time there, Berlin seemed to be sobbing and heaving heavy sighs from within. Would another sixty years make it all well?




Charlottenburg Palace
in the rain
waiting in line
to buy a ticket.
Zehn Euros, bitte,
says the man at the door.
Zu viel,
I say.
I walk
Frederich the Great's
gardens,
still shut out
three-hundred years later.




In der Küche
in SleepCheap Hostel
in Berlin
because someone
has gone to bed
early—
as usual—
and trying to write,
proving that
anything
is more
important
than a poem,
I hope
that someone—
—or anyone—
is having
good
dreams.



Having finished
my poem
in der Küche
in the hostel
in Berlin—
writing
by the
faint light
of the kitchen—
I go to bed
happy
until someone
comes into
the room
drunk
and
switches on
the light,
and stumbling,
shouts:
"Shit!"
My poem,
like my dream,
is destroyed*.

*Note (comical): Just as I wrote this line, someone came into the kitchen and, thinking that the light was off—the switch was outside the kitchen door—flipped the switch, turning off the light. Realizing the silly error, we instantly smiled at each other.




The four of us
are there
in the small room
at SleepCheap Hostel
in Berlin
when the
two German girls
come in early
and begin talking
non-stop.
They are weise,
as only German
girls are wise,
und frisch,
as only
German girls
are fresh.
If only
they would go
somewhere else
to be
weise und frisch
and let
die alten stumpfe
schlafen.




I haved lived
in Paris—
J'ai vécu à Paris;
I have lived
in Shanghai, China,
and Hong Kong—
shànghǎi hé xiānggǎng;
I have lived for years
in San Francisco—
Jiùjīnshān,
or whatever
you want
to call it;
and I've lived in
Puigcerda, Berlin ...
Hablo espanol,
Ich kann Deutsch sprechen ...
Jeez!
I've lived all over
the fuckin' planet!
But the
strange thing
is now
I feel
like
I know
nothing
at all!




At Main Station Hostel
there are eight beds
and only one bathroom
with shower.
It is hell
in the morning there
with everyone
but me
getting up
at the same time
and trying
to do business.
But some make it
worse then others,
I think
as I lie
in my bunk
listening.
The blond
Russian princess
is the worst
of all.
She "owns" the bathroom
till her business
is done
which it never
quite is.
Her shower
is leisurely and long;
she firmly believes
that no one else exists.
Then she is back
for her hair
which is never quite right.
Finally there is
a third visit
for her "movement,"
which doesn't
come easily,
I suspect.
That done
the whining begins,
her boyfriend playing
the consoling role:
"Dearest,
it will be okay",
I think he says.
I don't understand
Russian.
"We will go to the garden
and eat ripe pears
and drink sweet wine;
I will crack nuts for you,
then we will
make love under the Linden".
She shudders
at the words
"love" and "Linden".
Then he takes
his shower
and I hear
him blowing his nose
into the tub
and farting.
I'm glad I'm not
next in line.
While she pouts
he puts on
his clothes,
then returns
to the bathroom
for his movement,
which comes quicker
than hers
but not really
quick enough
for the four
Brit guys who are
just getting up.
Finally the princess
and her attendant
are gone
and there is some
relief in the room.
Marching through
shower slime,
skirting mascara smudge,
the Brits take care
of business fast,
then go off
to battle the day.
At last it is
my turn.
Lying in bed,
I swallow some wine
from a bottle
I have hidden
under the bed
and hope
no one comes back
for a forgotten
item.
Why did I come here?
To visit Charlottenburg,
or some other royal palace,
and catch glimpses
of ghosts?
Just this morning
I have encountered
a real princess,
who is a selfish bitch,
and her attendant lord,
Sir Wimp,
and four
feisty young
soldiers
who had to
eat shit
to take one.




I was working—
"working" is a
respectable way
of saying
writing—
when the guy
from Finland
came into
the room
with
six bottles
of vodka,
ten bottles
of wine,
or about
that many,
and two
open bottles
of Beck's.
"This one's
your's,"
he says
as an
introduction.
He's been watching
too many commercials.
He was
SHIT-FACED
CRAZY!
No,
I didn't want
to go
into the toilet
with him
to take a pee;
no,
I didn't want
to sleep
in his bunk
with him
later on
in the night;
no,
I didn't
want to
have anything
to do
with him.
I wanted
peace of mind.
Strange?
I wanted
to do my "work"
(euphemism for writing).
Are we
so whacked out
these days
that
we do not know
the meaning of
NO,
LEAVE ME ALONE
GO AWAY
ASSHOLE?
He could
have been
the bank;
he could
have been
the police;
He could
have been
a tattooed
nanny
fucking your
baby
behind your back.
He could
have been
anyone,
pierced asshole
and all,
these days.
He just
didn't understand.
And you,
"dear reader,"
do you?




The inane crowd—
They're everywhere
these days—
laughing about
things
that aren't funny,
serious about
things
that aren't.
I am lying
in a bed
in a hostel
in Berlin
right now—
but it could be
anywhere—
and I hear
the raucous
voices,
mostly male
and aggressive—
"Blah Blah Blah Blah Blah",
and I hear
the expected response,
mostly female
and passive—
"Ha Ha Ha Ha Ha".
And I wonder,
trying to go to sleep—
schlafen gehen,
but it could be
d'aller dormir,
ir a dormir,
shuìjiào ...—
what's it
all worth?
They are reading
from a script—
BLAH BLAH BLAN
LEADS HA HA HA
INTO THE BUSH
AND FUCKS HER!—
But it could
be the other
way around:
HA HA HA
LURES BLAH BLAH BLAH
INTO THE BUSH ...
The Crowd
The Gang,
In and
Inane.
Anywhere,
Everywhere;
In the Bush
Right now.




I keep
a low profile
these days
when "visiting".
I stay
out of
the way,
do the dishes
to "add value,"
and absorb
an occasional
insult—
"You really believe that?"—
which is the price
you pay
for an
extended stay
in a "real" house
with "real" people.
The insults
I can take;
being unreal
troubles me.