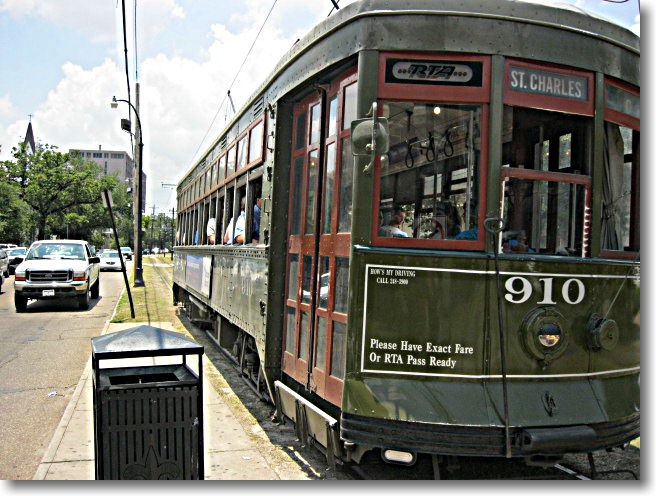 New Orleans—May 2011:
Putting My Feet Up In New Orleans
ORIENTATION: FELICITY & THE GREEN LINE
When I got to New Orleans, I was so exhausted I thought it was all over for me; I felt sick and feverish. I was also sticky-dirty. It was now Thursday evening around 11 PM and I hadn't had a shower since Sunday. I bought two cold bears from Anna, who runs AAE Bourbon Street Hostel with her husband, Adam; drank both of them, took a shower, then slept for twelve hours. When I woke up around noon I was fine.

I had decided to come to New Orleans for a couple of reasons. First, I wanted to add an extra city to my regular rounds, which took me from San Francisco to Paris to Shanghai. Second, I had had a feeling for some time that San Francisco and New Orleans had something in common. I felt that both had a laid-back feeling that other cities lacked, and that both had a spirit of fun or joie de vivre. Well, I knew that San Francisco had but was curious if it were really true of New Orleans.

And there was another thing I was curious about—the Sazerac cocktail. A few years back, when I was frequently writing about restaurants and bars, I had written something about the Sazerac cocktail (Knots & Sazerac). I had run into this drink on the cocktail list at Cafe Claude in San Francisco. It is made with a Pastis such as Pernod, bitters, Cognac, a lump of sugar, and a twist of lemon. But the bitters are not just any bitters; they are Peychaud bitters. Rye whiskey, Bourbon, or brandy may be used instead of Cognac. There are different opinions, as there always are, when it comes to mixing cocktails.

My first impression back then was that I did not like the drink. It tasted too much like medicine. But there was also something interesting about it. I looked it up and found that more than likely it was the world's first cocktail. And it was invented, I read, by Antoine Peychaud, an apothecary who came to New Orleans in the 1790s. He made the drink for his friends when they stopped by his shop. By the 1850s it was a popular drink formula and was served as the Sazerac Cockail at the Sazerac Coffee House in new Orleans. Thus coming to New Orleans gave me an opportunity to see if the coffee house was still there and to see what was left of Peychaud's old shop.

I had other interests as well. I like tasty, spicy food. San Francisco, with Mexican and Asian influences, had it. I like jazz. The Bay Area is now a magnet for jazz musicians but I knew where it all began. And I was curious about Katrina damage. How much had been fixed? San Francisco also had poetry, and I don't mean just poets. I mean a feeling about it. It wasn't just a city; it was the lyrics of a song, a charming way of speech. What about the Big Easy? Was it just laid back and lazy or did it put a smile on your face as well? Did leaving it make you sad of heart?

The first thing I found out was that New Orleans, or Nola as she is often referred to there, is hot in June. And sometimes it is hard to see the charm in anything that makes you sweat. First you need to cool off, "put your feet up," a favorite expression there, and relax.

Cooling off is not too hard if you stay inside. Nola has the air conditioning for that. The problem, really, is getting from one air conditioner to another.

I put off exploring the Sazerac for a few days. AAE Boubon Street Hostel—not actually on Bourbon Street, of course—was booked the second day I was there and I had to move to Saint Vincent Hostel, which used to be an orphanage, and still, in a way, feels like one, with this difference: It now feels like a refuge for lost souls, not kids. It seems to operate as both a hostel and low-income or subsidized housing for the down and out. There is a big dorm with about 30 beds and no lockers and a broken door. Two bathrooms serve all, or are supposed to. Around the courtyard, which actually has some grace left over from the past, sit many of the down-and-outers. The women seem to be all without teeth; the men sit mostly in wheel chairs, though I'm sure some can walk with a cane. They look like Civil War veterans. The open can of beer is the rule, and don't think I'm knocking it. Some people need that open can. I don't know what their life experience has been, but from their appearance I don't think it can have been pleasant.

The woman who washed my clothes there was one of the down-and-outers. A toothless blond, maybe in her late 50s, she always called me "sweetie," giving me an injured-looking smile. I appreciated her attempt at grace in the face of adversity. I think even in a concentration camp she still would have been squeezing out that smile. Charlie Chaplin had it down:
Smile, though your heart is aching
Smile, even though it's breaking ...

I did a little exploration of the area on foot the first day, walking first west to a Walgreens on Felicity and spotting the Green tram line on Saint Charles, then walking east on Felicity over to the river, which I could not see because of the levees. It was strange to be so close to that storied river without being able to see it. The reason of course is that the river is so high that if you could see it and it flooded, you could be washed away. That is exactly what happened with Katrina when part of the levee broke. I could, however, see the cabin of a container ship poking its nose above the levee along Tchoupiloulas. I walk south along Tchoupiloulas, looking for a Rouses supermarket that a guy at Walgreen told me about, warning me, however, that it would be a long walk. It was. I gave up and, spotting a Walmart, went in and bought groceries and beer.

On the way back up Felicity, through what looked like what was called "projects" in San Francisco—low income or subsidized housing—I was walking behind and an African-American girl of about five and her mother. The little girl turned around and scowled at me. Her mom looked around, then said to her daughter, "You stop that shit!" The girl turned around and quit staring at me.

It appeared she had heard things about "white" people. I knew there were racial tensions in New Orleans, partly related to Katrina and the relief effort, which was said to be slow in the black community; but I didn't expect this from a person of so few years. I looked about at the "projects." They actually looked fairly decent. They were not huge, but some attention had been given to good design. They were brightly painted and there were grass and trees. In San Francisco, the projects were a wreck: ugly concrete and steel structures that looked more like prisons than housing. I was curious.

Out of the projects, or whatever they were, and walking along Felicity, I saw many fine house with trees and gardens and always with porches or verandas. They were elegant and comfortable-looking as well. It turned out I was just on the border of the "Garden District," which I would visit later on.

The next day, after checking back in at AAE Bourbon Street Hostel, I headed to the French Quarter. Over the next week, I made a trip there almost every day. It was the same routine of picking up the Green Line tram at Felicity and Saint Charles, then heading north for about a quarter of a mile to Canal Street, on the southern side of the French Quarter. The old cars, with polished wood interior and the original rotary controls operated by the conductor, are classics and fun to ride. They rumble along the tracks in great style and the conductors seem to take pride in their work, much like the cable-car operators in San Francisco. The job is part knowledge and skill in driving the old cars and partly performance art. Efficient? Probably not. Great fun? For sure.

On my first trip to the Quarter I alighted at Canal Street blinking in amazement at just being there and seeing the sign. Yes, I'm silly like that at times. Something just bubbles up inside of me and I lose it. I calmed down.
A couple of city guides at the corner confirmed what I had already seen on the map: that Bourbon Street was in walking distance, just across Canal on the other side. They gave me some advice on safe streets and less-safe streets. I listened. Call me a wimp. Having been assaulted, robbed successfully and unsuccessfully, and pickpocketed successfully and unsuccessfully all over the world, I was an attentive listener. And I'm not just talking about the banks or the government!

I edged my way over to the famous street. I coulc almost hear Louis Armstrong playing Bourbon Street Parade. And as soon as I got there I realized I needed to return to reality. Louis had been dead a long time and Bourbon Street, once probably a joyous place, had become harsher. One of the guides had told me that it was not his favorite spot, and I soon took his advice and headed down to Royal. The problem with Bourbon Street these days is that it is too much of something: it is too loud, too raunchy, too garish, and too commercialized for all all the wrong reasons. It panders to the absolutely lowest public tastes. But what a nice place it must have been years ago.

I took Toulouse over to Royal, then walked Royal, taking in some of the art galleries. There is some nice stuff there, at least for those seeking to liven up their senses before going to lunch. I was surprised when I ran into Martin Lawrence Gallery, as I was familiar with Martin Lawrence Gallery in San Francisco but didn't know it was a chain. I knew that Walgreens and Walmart were chains but I had not suspected Martin Lawrence Gallery of being one of many galleries in a galaxy of Martin Lawrence galleries.
No doubt a bit naive am I.
A fool on a toadstool cucumber cool.
Numb dumb, numb dumb.

I was also surprised, when expressing my admiration for the New Orleans art scene, that the rep there pooh-poohed the notion that New Orleans had anything at all to offer the art world. I was at least being open minded and giving it a chance. After all, I had just gotten off the tram and was still blinking in amazement at most things. He sounded quite certain that New Orleans was an artistic nothing, if not even a black hole emiting no light, in the art world as we know it.
"But New York," he sighed heavily, "that is another matter."
I gathered he thought well of New York.
So what can I say? I was in a mood to enjoy new things, even swoon a little. But perhaps in a day or so I too would be saying with a deep sigh:
"Ah, Paris, now that is another matter!"

I decided to cool it on my first day in the Quarter. I traced my way back up Toulouse, walked on by Bourbon Street till I came to a bar called Last Call. It seemed fitting for me. There were no girls, no loud music, no flashing lights of any kind. There were also no customers and only one solitary bartender. Who needs more that one bartender, after all, if you have no customers?

I order a Sazerac but the bartender tells me he has no rye whiskey. I don't bother to tell him he could use Bourbon, brandy, or cognac, if he had any of the latter. I order a Jim Bean on the rocks. I'm in luck; he has both the Jim Beam and the "rocks."

The bartender's name is Dan and he's from the San Francisco Bay Area. He tells me Last Call is just a "beer and shot" place. He says he's just moved to New Orleans and Last Call was the best he could do. I tell him it's okay; I'm not really into fancy cocktails anymore. With the economy the way it is, they are not really affordable for me. Let the other folks—the bankers, the Streeters, the politicians, and other dark matter in the universe—order the Pink Lady, the Lemon Drop, and Sex on the Beach.

Dan serves me in a plastic cup so I can take the drink with me if I want to. In New Orleans you can do that; you can drink on the streets. There is just one rule: The drink must not be in a glass container. Too much broken glass on the streets before that rule. Good idea. I've never liked stepping on broken glass.

Okay, so I wasn't exactly discovering poetry in New Orleans or Nola, but I was discovering what her limits of tolerance were. They seemed to be stretched pretty far out. Certainly further out than in San Francisco, where drinking on the street was illegal and the bars closed at 2 AM. In New Orleans there was no closing time, and I kind of liked that. Think about it: No closing time, no opening time. You could eat and drink until time ran out and the universe collapsed.