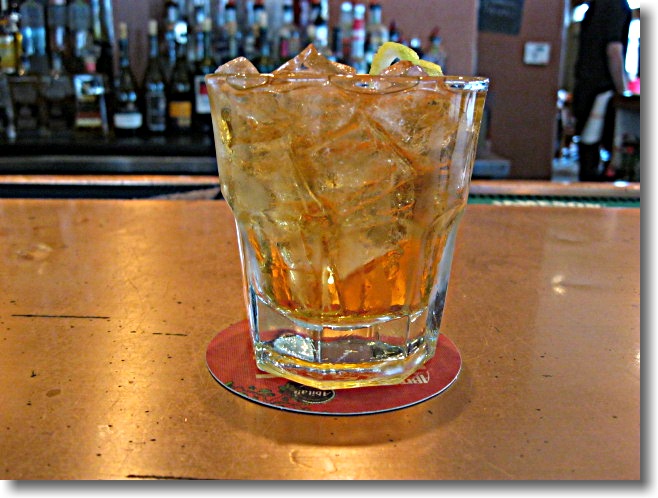 New Orleans—May 2011:
Putting My Feet Up in New Orleans
PEYCHAUD WHO?
The next day I hop off the Green Line at Canal Street feeling excited and return to the New Orleans Pharmacy Museum at 514 Chartre Street.

The girl there tells me she does not know where Antoine Peychaud had his shop. She acts like she has never heard of Peychaud and tries to get me interested in the shop of Louis Dufilho, the first licensed pharmacist in the United States. But it's a tough sell with me. I am more interested in Peychaud—this unlicensed, or illegal pharmacist, if you want to call him that—than in this Dufilho fellow. For one thing, it appears that Peychaud was operating in New Orleans before Dufilho. Dufilho didn't show up till 1823, whereas Peychaud was there in the 1790s. Plus Dufilho didn't mix any hot cocktails, let along invent a whole new industry. Lacking Antoine Peychaud, New Orleans may never have put its feet up nor been dubbed the Big Easy.

I left Dufilho's shop feeling a little down—depressed, if you want to be more clinical about it—and started wandering. People in a state of depression often do that, I understand. After awhile I found myself at Jackson Square and then at the French Market. I was cheered a little by the sound of live jazz music and the sight of waiters in white wielding beautiful plates of food to tables in open-air restaurants. Finally I found myself standing on Esplande Avenue staring into space until something prompted me to wander down to Frenchman Street. I have no idea why. A friend in San Francisco had mentioned jazz clubs down there—the Blue Nile, the Spotted Cat ... and the guides I had met on Canal Street on my first day out in the French Quarter had mentioned Frenchman too. They had warned me to be careful there. It's just outside the French Quarter on the North side and not as safe.
I felt a little more alive now, imagining some danger lurking. But that was all nonsense. At this time of the day Frenchman Street was dead and the jazz clubs were not even open. I looked for something that was. On the corner of Frenchman and Royal I spotted Mavigy Brasserie. I liked its looks and went in. On the bar was a large bottle of Peychaud's famous bitters. Perhaps I could order one more Sazerac before giving up the quest for the famous apothecary's shop.

I asked the bartender if he could fix me one—"with ice in the glass," I added. I expected resistance.

"However you want it," he said cheerfully.

His name was Luke.

He stirred the ingredients, filled a glass to the top with ice, and poured.

I was amazed. It was now very drinkable.

I told Luke my troubles. First I told him about finding that the Sazerac Coffee House was now a parking lot at the Holiday Inn. Then I said:

"Today I have been searching for Peychaud's old shop—you know, the bitters guy, or the guy who made them—but no one seems to know where it was. I'm about to give up".

Then I was even more amazed:

"I know where it was," Luke said, "437 Royal. I used to work there."

He said there was an antique gun shop there now—that is where he used to work. I recollected walking by it earlier and staring in the window at some old muskets.

I was way up the river and didn't want to walk back to Canal Street in the heat, so I took the Red Line tram back down along the river side of the French Quarter to Canal Street. I was overjoyed. How could I have been so low just half an hour earlier? Were such rapid mood changes really possible? Whoopee! I guess so. I would pay the antique gun store a visit tomorrow. I didn't want to press my luck anymore today. It would be devastating if my new lead were wrong.