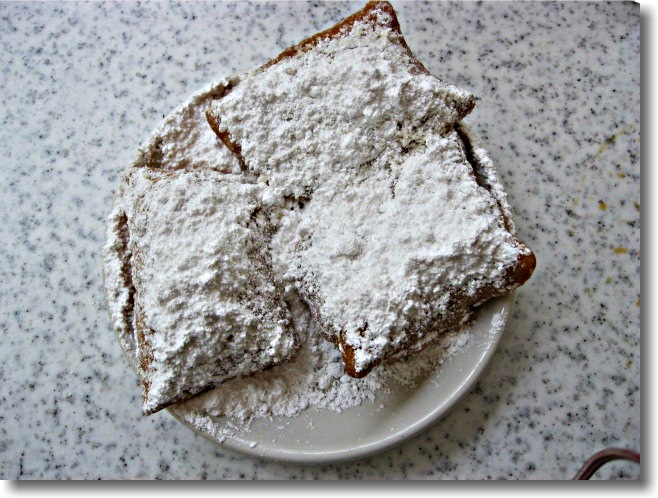 New Orleans—May 2011:
Putting My Feet Up in New Orleans
WHERE ELSE BUT NEW ORLEANS?
It is hard to wrap up New Orleans. My introduction was far to brief. And I altogether forgot to mention New Orleans' original music, jazz. Next time, okay? There is also the beignet, that funny little New Orleans donut served at Cafe du Monde with mounds of powdered sugar that have to be shaken off before eating, leaving Cafe du Monde covered in the stuff. Why the hell do they do that? I also forgot to mention red beans and rice and the way Louis Armstrong signed his letters:

Red Beans And Ricely Yours,
Louis

I probably forgot a whole lot of things. But I can take them up later, when I go back. It won't be long.

I had a Canadian-Polish roommate at AAE Bourbon Street Hostel. We complained about a number of things in New Orleans: the cracked sidewalks, the street corners without signs, the heat, the humidity, the mosquitos, the frustration of being near the river but not being able to see the damned thing ... But we both agreed that New Orleans—Nola, if you will—grows on you. Where else can you put your feet up, drink cold beer by an air conditioner, eat a PoBoy, and complain about everything under the sun without getting poked in the eye with a stick?