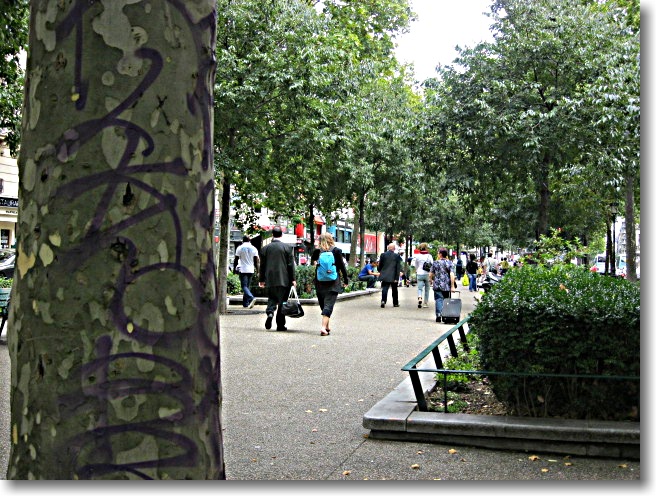 Paris—July 2011:
Swan Lake, Puigcerda
LIGHTENING MY LOAD IN PARIS
The daughter is back and I'm off to Paris on a mission.

I used to live in Paris and still have stuff in a locker there.

But times are tough and the locker is expensive. As one more
"adjustment" to the economy that isn't, I'm going to get stuff from the locker and close my account at une pièce en plus (an extra room).

Actually, une pièce en plus is my only room. Some of us have suffered more from the down economy than others.

I think that is the way it was meant to be in this world. Maybe it is different in others. But I'm not optimistic like Candide.

I'm at La Fourmi now waiting for the check-in time at the hostel, Caulaincourt Square Hostel. I used to live in the neighborhood. This time I'm here as a visitor. Being a visitor in a neighborhood you used to live in and still love gives you another perspective. Your sense of identification with place is eroded. But maybe that is for the best in this world and any other. I don't know.

Last night was no fun on the train coming up to Paris. Everyone just slept with their coats over their heads. They are the funless ones, going to jobs as though going to prison. They are zombies saving their energy for their employers in the City of Light but fading spirit.

But it is nice being at La Fourmi, where, a year and a half ago I used to write every day. It's raining and I recollect the high gray sky and the flatness of the land coming into Paris in the early hours.

At least I didn't have a jacket over my head and the numbness that comes with employment. I hadn't shave my head and bought a tight leather jacket, making me look like an erect penis with stretched foreskin to the ladies of Paris who like to expose their breasts to the max. That is the idea, isn't it? Or am I not supposed to say it? I wasn't much—sure, I was down—but at least I hadn't gone into the minus category yet.

Later I distribute the stuff from my locker around Montmartre and Pigalle. Each time I drop something off I feel lighter. What if I got rid of everything? Would I overcome gravity, Stephen Hawking? Would I then become light matter in the universe? Is that what Einstein didn't see the first time around?

On my last day in Paris I'm simply killing time, making rounds that I've made before but having fun, a priori, in the city of light that I love but can't afford. I am feeling giddy in the gray city of tres chic, clicking heels and shaved heads. And the question arises: Is it the best of times or the worst? Only time knows or doesn't. Pure a posteriori. Better watch myself. I have had too much vin blanc at Royal Custine. But poor Le Houdon Jazz Club! No more, the whole thing with the Cotton Club mural gone. How could they have done that! And who are "they," Bertrand Russell? Changes, changes, changes, most for the worse. But my Chinese horse-racing bar is still there unchanged. 好 (Hǎo). And Brioche? About the same except for the coin now required for the restroom door. Good places to work, all of them. I wander up to rue Abbesses in the rain. The kids carousel is now enclosed from the weather. I liked it open better. What about the kids? Did anyone ask them? Down on Clichy I see the same broken bottles and bums. I have to imagine the rats at this time of day but I know they are there, Voltaire.