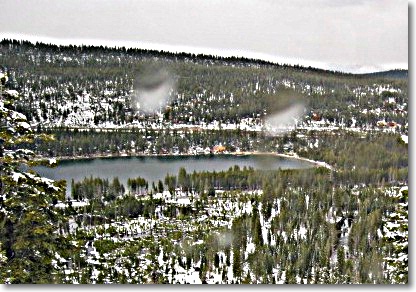 California Zephyr—May 2011:
Cross-Country Reality Check
SNOW WHITE, BLOOD RED

Now the train has picked up speed. We have passed through Martinez and are headed over to Sacramento. I have seen this country before by car; now I see it by train and it is a better experience. The train is a big Amtrak double-decker diesel-electric with dining car, cafe, and observation lounge. There is lots of walking space if you get antsy, and on a three-day trip to Chicago you probably will.

I see the reddish-brown soil along the tracks. I see the Sacramento River and the piles of rocks from dredging, necessary after extensive hydraulic mining clogged it during the California Gold Rush. Miners, like bankers, will ruin everything if not controlled.

Then we pass by Auburn and Truckee and are headed up into the Sierras. We start to see patches of snow along the tracks and in the woods. Rain is now coming down, splattering the windows. Then there is snow everywhere. A half an hour ago the leaves of the trees were light green. Now they are dark green, and the trees thin out as we get higher. It looks like a wicked Winter scene now as we cross Donner Pass and Donner Lake. I do not see witches in the woods—or bankers!—but I'm sure they are there wishing us the worst. I no longer feel cheerful, as I did around Richardson Bay. I wonder how long it is going to take till we are out of here, down the mountain and back into the light. In the high mountains in Winter there is a kind of dullness like a toothache. It is good only for contrast or imagining evil. But evil doesn't need too much imagination. It's as palpable as a tumor on the neck.
Light green, dark green,
snow white, blood red.

Finally we are back in the good country, trailing the American River, and I am wishing I could get off at the next small town and go camping and fishing all by myself. The river snakes along merrily between little patches of trees and grass.
Merrily, merrily,
Merrily, merrily ...
But is life really a dream?