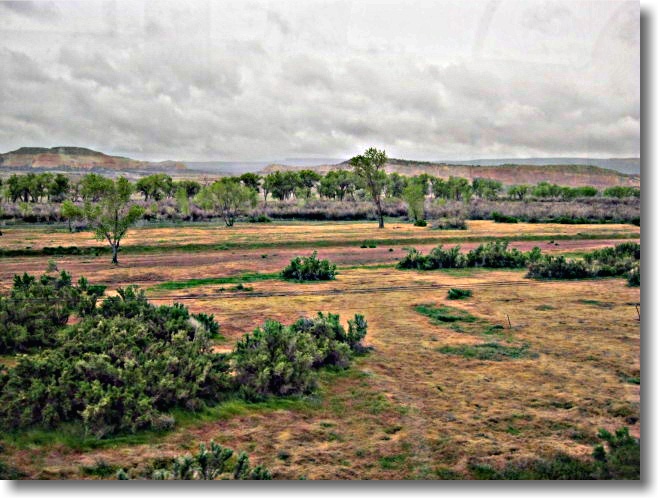 California Zephyr—May 2011:
Cross-Country Reality Check
IN MY OWN BACKYARD
At Winnemucca, Nevada, we picked up more passengers and I got a seatmate. Previously I had both economy seats to myself. But it didn't matter much; I spent most of my time in the lounge car anyway. But now it did matter. I felt cramped with the seatmate and moved to the lounge car for most of the rest of the trip.

The lounge car was in fact more comfortable, with swivel seats and more space for your legs. Also, there was room "to put your foot up," a phrase I would learn in New Orleans, known as the Big Easy.

I was now into the train schedule and watching for all the stops. The next was Elko, still in Nevada, then it was onto Salt Lake City, Utah. This was exciting to me because I had heard about all these places for years but had never seen them. I had been to Kathmandu in Nepal and Bhaktapur; I had been to Karachi, Pakistan, and Varanasi, India; but I had not been to a lot of places in my own backyard. It makes me wonder about all the young kids—boozing "backpackers" these days—who are off to see the world. Have they seen their own country before they take the Trans-Siberian railroad from Moscow to Mongolia, or go charging off to explore the Ho Chi Minh trail in Vietnam?

Back in the lounge, with Winnemucca, Winnemucca, what a curious name! going through my mind, I listened to a curious conversation. It is between a young, good-looking "gal"—where we're at on the route I think that is what you call young women—and an older guy who looked and sounded like Burl Ives. She has a tattoo over her left breast, which is ample and somewhat exposed; he wears a turquoise bolo tie and a pricy cowboy hat.

She's saying "what the fuck" and "fucking" this and "fucking" that—typical language of the younger generation these days—and he is genteel, his voice soft but humorous and wise.
"What the fuck, I tell him to get dressed and get his fucking stuff out of my room."
"Sensible, my dear, yes, sensible."
"But the fucking dude doesn't think I'm serious. So I start throwing his fucking shit out the window."
"Oh, my, oh my ..."
But they get along fine. She laughs at his jokes—seems to find him charming—and he probably enjoys her earthy looks if not her language. A generational gap is bridged in the middle of nowhere.
My lovely lady,
I like to hear you say "fuck"
But would you do it with me?
I do not think so.
My fine sir,
I like your melodious words
your gentle ways,
Would you hold me in your arms and kiss me?
She gets off at the next stop. He looks dreamy, lost in another world.
Winnemucca, Winnemucca, what a curious name!