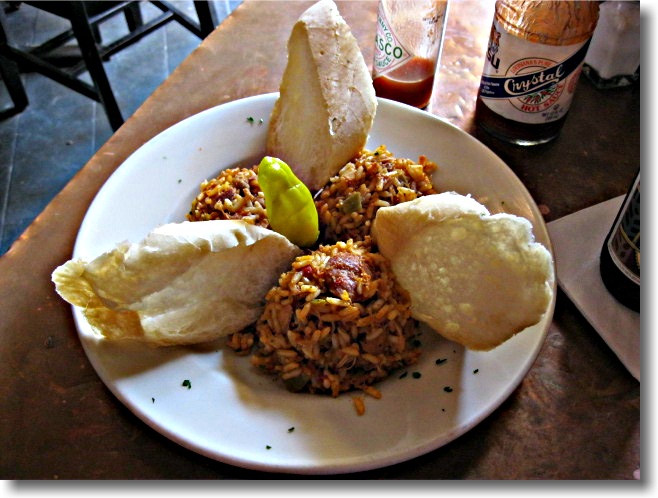 New Orleans—September 2011:
Fact Checking in New Orleans
GLAD I ASKED
Despite the pain getting there, it was nice to be back in Nola!

And in one day I managed to: meet the great great grandson of James H. Cohen, current proprietor of the shop where Antoine Peychaud is said to have had his apothecary and first served his famous cocktail; eat and discussed jambalaya at Chartre House Cafe.

On my first first visit to New Orleans I managed to track down a shop (Peychaud Who?) where Peychaud operated on Royal street, but I was confused by some of the information. When exactly did he operate? I had read in the 1790s but that did not jive with the dates I had for the Sazerac Cocktail House, where his drink was publically served around 1850.
Arriving back at 437 Royal street, I was quickly introduced to Barry Cohen, who showed me pictures of the old shop when his great great grandfather had it. He pointed out a few changes that had been made. Cohen & Sons is an antique shop featuring, among other items, antique guns. The shop first opened in 1898. But it is a bit of a complicated history. William Feldman was the first owner but it was his grandson, James H. Cohen who took over the business, first operating at another address on Royal. Years later, In 1978, the business moved back to the original location, 437 Royal. Nothing unusual; businesses frequently relocate. Peychaud, who at one time operated at the 437 Royal location, also moved around.

Barry suggested that I might get more information by going to the Williams Research Center a few blocks away. I did and found out the following:

Peychaud came to New Orleans in the 1790s while in his twenties, but he did not become an apothecary until the 1830s. That in itself was a surprise, but it accounted for the fact that the Sazerac was not served at the coffee house of the same name until the 1850s. I also discovered the following: Peychaud was a mason and a member of the Concorde Blue Lodge; he had an early career in politics; he even ran for mayor once and lost; and he served as Justice of the Peace in 1824. As an apothecary he first operated at 123 Royal. Later he operated at 108 and 90 Royal. It appears the bitters he "invented" were a secret family formula that he brought with him when he came to New Orleans from Santa Domingo in the Dominican Republic.

And that may be about all that is known of Antoine Peychaud. It comes courtesy of the Williams Research Center in New Orleans.
I didn't know much but at least what I knew now made sense. It was better than perpetuating false information from other sources, which is what I had done some years ago in an article on the Sazerac cocktail (Knots & Sazerac).

My second chore of the day was to learn a little more about jambalaya, which I had tried on my first visit to Nola. After my visit to the Williams Research Center, I dropped by the New Orleans Cooking School on Saint Louis street.

The shop up front was packed and I did not feel like intruding. But off to the side there was a woman, an instructor I thought, making cookies. I asked her hesitantly if there was a place that she recommended for jambalaya. Her response surprised me.
"I never eat in the Quarter," she said.
Her remark was off putting. She sounded critical, without quite saying it, of everything in the French Quarter. Maybe I would feel that way too if I stuck around New Orleans long enough. I have similar feelings about Fisherman's Wharf in San Francisco; and yet there are some good things there, so I don't condemn it. The "Quarter" is on the hit list of every tourist, good one or bad. Reading between the lines, I also had the impression that she did not think too much of jambalaya.

A little disconcerted I went in search of jambalaya all on my own. Maybe that was a good thing. I decided to try Chartre House Cafe, where on my first trip I had eaten a high-end PoBoy with deep-fried shrimp (Taste of New Orleans).

I don't know if I learned much about jambalaya. Maybe there is not so much to learn. But I enjoyed talking with Roy, my waiter, a native New Orleans guy who was at least honest with me.

He admitted that he didn't know that much about the stuff.

"It's not my favorite dish," he said.
I didn't ask him what he thought of the French Quarter. I was afraid of hearing something like, "Well, it's not my favorite place."

I came in about 2 PM and was the only customer.

Roy was enthusiastic about food and said he cooked a lot at home.

"I don't have a lot of money and can't afford to eat in restaurants all the time."
"Right, Roy," I said, "there are a lot of us in that position these days."

He said he'd never tried cooking jambalaya but had cooked a lot of other dishes, usually, he said, just following the recipes on packages. Not a bad idea; the package people want you to like the contents.

"Just about everything," he said, "starts with onions and peppers."
That was confirmation. The first time I tried jambalaya it was the peppers that stood out the most. He said in general you cooked them way down.
But I was beginning to think that maybe I should forget jambalaya. Was it all a hype, and were there better things to eat in New Orleans? Maybe somebody should have told me: "Hey,Louis, there are better things to eat in New Orleans than jambalaya. May I suggest the ..."

I asked him about the bread that is used on the PoBoy in New Orleans. I suggested that it was not of the highest quality.

He said he'd heard that before. He pointed to the bread slices that were sticking up from the three stiff scoops of jambalaya on my plate.

"It's the same," he said.

I gathered that that was French bread in New Orleans and left it at that. It was light and flaky—insubstantial—something you might expect from a school lunch program where costs were being cut.
I've read since then that the PoBoy is nothing but a submarine sandwich with lousy bread. Is that true too? The other day in San Francisco I bought a sandwich labeled a PoBoy. The bread was slightly better—it's hard to find really bad bread in San Francisco—but the ingredients were not as good.

We talked a little about red beans and rice, a New Orleans favorite. I am a great lover of beans and rice myself but said I was disappointed when I'd had it up on Bourbon Street. This was a dish Roy knew. Anyone on a budget knows about beans and rice.

"Were the beans mashed?" he asked.

I thought about it.

"No, I don't think so," I said.

He ran to the kitchen and brought me a sample of red beans and rice with slightly mashed beans. It was delicious. But I think it was the spices too. At Beiget Cafe up on Bourbon Street the spices were bland. Or did the plastic plate and spoon that it came with turn me against it? Maybe it was a combination.

I downed this all with an Abita Amber ale and a shot of Jim Beam. Almost anything would taste good with that combination. Ask any poor boy of the Great Recession.